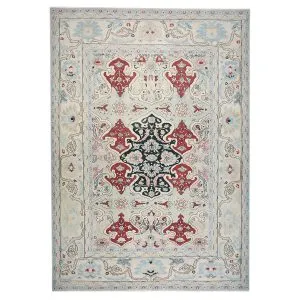 Persian Sultanabad 10×14 Ivory, Blue, & Red Handmade Area Rug #1143766
$8,900.00
Collection: Sultanabad Masters Collection
Condition: New
Origin: Persian
Design: Sultanabad
Actual size: 9'11" X 14′
Thickness: 1/4″
Color: Ivory, Red, Black, Light Blue
Content: Wool
Description
Description
Ashly Fine Rugs presents an antique recreation of an original Persian Sultanabad room-sized area rug. Part of our own previous production, this antique recreation was thought of and created in-house and handmade in Iran by our master weavers. Persian Sultanabads are perhaps the most desired rugs by both connoisseurs and interior designers. Made with all vegetable-dyed, handspun wool and entirely handwoven. The pile of the rug is 1/4in. to give it that true antique feel and handle. This elegant piece has an ivory background, with the design, details, and border consisting of red, black, and a very light blue. Nonetheless, an excellent piece for a living room, dining room, bedroom, or wherever its beauty is desired.
Collection: Sultanabad Masters Collection
Condition: New
Origin: Persian
Design: Sultanabad
Actual size: 9'11" X 14′
Thickness: 1/4″
Color: Ivory, Red, Black, Light Blue
Content: Wool
Reviews (0)
Only logged in customers who have purchased this product may leave a review.